Email for Business
Your email has to have a place to be delivered to on the Internet, a bit like a post office for traditional mail, and Truska servers provide that service. Email is delivered to your mailbox on one of our mail servers where you can collect it using your computer and an application such as Outlook or Internet Mail, your phone or tablet device, or all three... Alternatively you can also host your own mail server, such as Microsoft Exchange, and we make sure your mail is delivered directly to your server where you manage your email accounts and mail distribution to your staff.
Truska also supports all mail accounts with a backup service whereby if our, or your, server is down for any reason mail is diverted to a backup server where it is held and queued until the server comes back on-line.
Email is based on your domain name. Once your domain is registered you can set up any emails using AnyName@YourDomain.com.
Truska can provide, in addition to our own in-house TruskaMail services, a full Hosted Exchange service, Microsoft Office 365 and integration with GoogleMail and other email solutions. Please ask for details and costs.

Truska MailGuard also available to reduce spam and protect your users and systems from cyber attack. Click icon for more details.
Truska Mail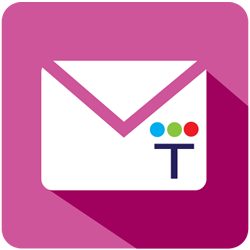 TruskaMail Business Hosting Basic, our core small business service, provides up to 5 POP based e-mail accounts with a shared 500MB of data storage as standard. You can also have up to 5 alias accounts such as alternative spellings of names or other generic accounts such as sales@ or accounts@ diverted to a named account. Typically most of our clients do not need more than this for general business use. 
TruskaMail Business Cloud is our more advanced solution for larger email users and/or those that need access to their mail, calendars and contacts when out and about. The solution is IMAP based allowing all your emails to be stored on our dedicated servers. Calendars, personal and shared along with address books/contacts can also be implemented on a cloud basis meaning all your information is always available on all your devices from anywhere where you can get on-line world wide. Each account comes with 2GB data storage, personal calendar, shared calendar and address book for a fixed annual cost. Additional storage can be purchased if needed.